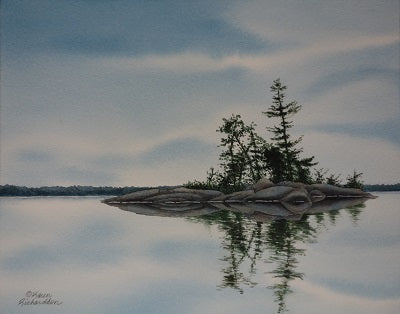 At Rest, watercolour on panel, 8 x 10" (SOLD)
"I love using watercolour to create soft, dreamy skies and crisp details of rocks and trees. In this calming scene from northern Ontario, I enjoyed the process twice as much - because of the reflections."
At Rest is an original watercolour painting, mounted on an archival panel with a UV-resistant and moisture-resistant coating, which protects the painting and allows it to be displayed without glass. The archival panel is mounted in a black wood float frame. The image is 8"h x 10"w and is painted on 100% rag watercolour paper. Framed size 9"h x 11"w.
At Rest is valued at $320. and comes with a certificate of authenticity.
Click here for a list of galleries representing Karen's artwork.