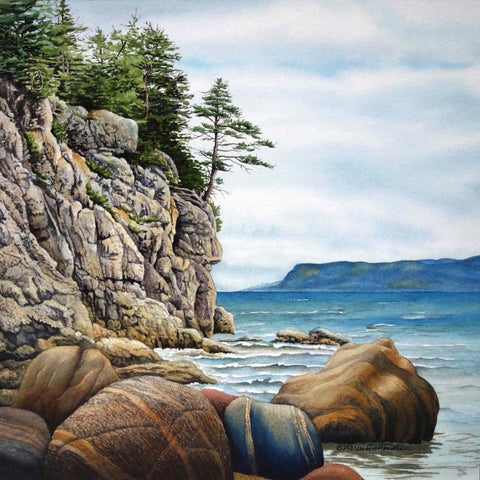 Guardians of the Bay, watercolour on panel, 12 x 12" (SOLD)
"Every now and then I create a painting that is greater than the sum of its parts. This scene was inspired by two photos I took of some beautiful Canadian Shield scenery on the west coast of Newfoundland. I love the heaviness of the boulders on shore compared to the delicacy of the tree balanced on the cliff. Pure magic."

Guardians of the May is an original watercolour painting, mounted on an archival panel with a UV-resistant and moisture-resistant coating, which protects the painting and allows it to be displayed without glass.
The archival panel is mounted in a black wood float frame. The image is 12"h x 12"w and is painted on 100% rag watercolour paper. Framed size 13"h x 13"w.
Guardians of the Bay is valued at $650. and comes with a certificate of authenticity.
Click here for a list of galleries representing Karen's artwork.