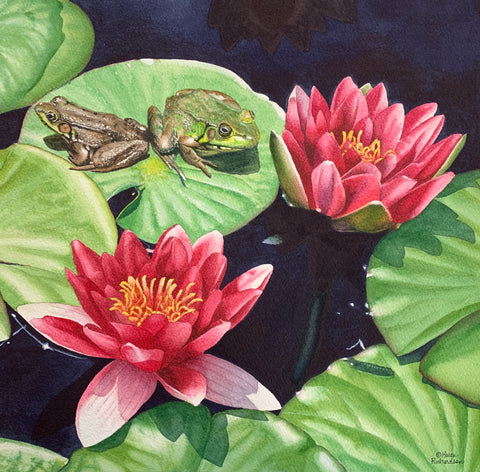 I've Got Your Back, watercolour on panel, 12 x 12" NEW
"This is one of those paintings that began with the title and I invented a scene to match. I photographed the frogs in Point Pelee National Park and the pink waterlilies in Timmins, ON. This painting is the second in a series of three pieces.

I've Got your Back is an original watercolour painting, mounted on an archival panel with a UV-resistant and moisture-resistant coating, which protects the painting and allows it to be displayed without glass. The archival panel is mounted in a black wood float frame. The image is 12"h x 12"w and is painted on 100% rag watercolour paper. Framed size 13"h x 13"w.
I've Got Your Back is valued at $850. and comes with a certificate of authenticity.
Currently this painting is on display at Karen's studio in Lindsay, ON.
Note: If you wish to acquire a painting that is on display at a gallery, please contact the gallery. For all artwork that is on display in Karen's studio, select your purchase by clicking on 'Add to Cart' and paying securely by credit card, or contact Karen to arrange an e-transfer or payment plan. If you wish to pick up your purchase at Karen's Lindsay, Ontario studio, select 'Studio Pickup' during checkout. 
Click here for a list of galleries representing Karen's artwork.