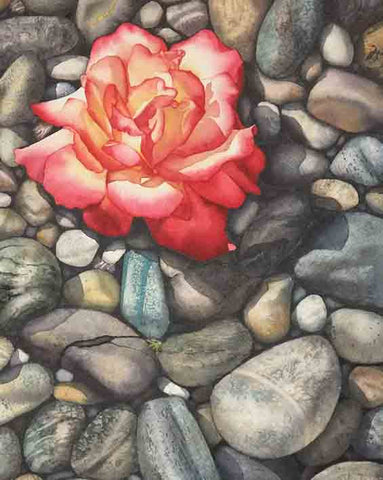 Rose on the Rocks, 14 x 11", watercolour on panel (SOLD)
"Red roses are symbols of love and passion. A single red rose sent in Victorian times meant "I love you". I set this one against a background of neutral-hued beach pebbles, to enhance the rich glow of the flower."
Rose on the Rocks is an riginal watercolour painting, 14"h x 11"w, mounted on archival panel with UV protective coating, in a black wood float frame. This piece is valued at $600.
Art prints of 'Rose on the Rocks' are available from FineArtAmerica, a world-renowned print-on-demand company. This image can be printed on canvas, paper, wood, acrylic, or metal, and is featured on other fine products. Click here to see the 'Rose on the Rocks' selection on the FineArtAmerica web site.