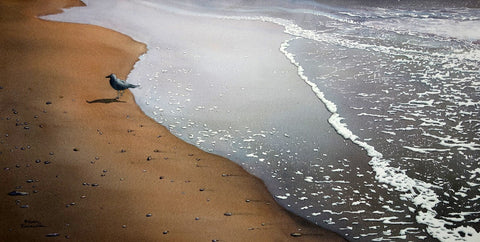 You Can't Catch Me, watercolour on panel, 12 x 24" (SOLD)
"I love the flowing lines and the glow of light in this piece. Sometimes the simplest of elements - sand, water, bird, sunshine - are all one needs in a painting, to transport the viewer to another place and time. "
You Can't Catch Me is an original watercolour painting, mounted on an archival panel with a UV-resistant and moisture-resistant coating, which protects the painting and allows it to be displayed without glass. The archival panel is mounted in a black wood float frame. The image is 12"h x 24"w and is painted on 100% rag watercolour paper. Framed size 13"h x 25"w.
You Can't Catch Me is valued at $1300. and comes with a certificate of authenticity.
Click here for a list of galleries representing Karen's artwork.