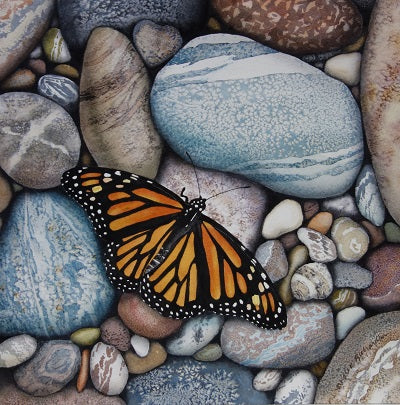 Superior Monarch, watercolour on panel, 12 x 12" (SOLD)
"As part of a series of paintings featuring flowers resting on stones, I painted this Monarch butterfly in place of a blossom. I love the contrast of the delicate orange wings against the heavy, dull-coloured stones. The stones are inspired by pebble beaches on the north shore of Lake Superior."
Click here to see the story of this painting's creation.
Superior Monarch is an original watercolour painting, mounted on an archival panel with a UV-resistant and moisture-resistant coating, which protects the painting and allows it to be displayed without glass.
The archival panel is mounted in a black wood float frame. The image is 12"h x 12"w and is painted on 100% rag watercolour paper. Framed size 14"h x 14"w.
Superior Monarch is valued at $580. and comes with a certificate of authenticity.
Click here for a list of galleries representing Karen's artwork.